Getting your lawn ready for the summer season can be so exciting. That mid-western snow has finally melted, the May showers have started to bring us flowers, and now June has arrived. You can finally start to focus on cultivating the perfect lawn that you have always desired. Now, not everyone has the same idea of the "perfect" lawn look. And not everyone can follow the same lawn care routine and achieve the same results. However, the basics of lawn care are pretty set in stone.
When you are taking care of your lawn, you will need to: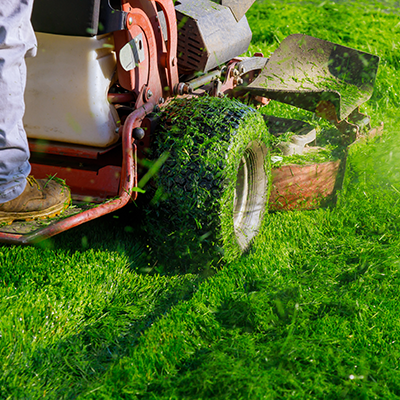 Mow often and precisely
Fertilize on schedule
Watch for lawn diseases and compacted soil
Ensure any issues like pests or bare patches are dealt with quickly
Mowing Properly Matters
The basics of lawn care always start with mowing. It seems like it could be the easiest part of caring for your lawn, but there is actually a decent amount of science behind it to make it as effective as possible. One of the specifications behind mowing properly includes keeping your lawn at a healthy height. A widely accepted height to keep your lawn vibrant is about two and a half inches tall. The best way to continuously keep your lawn at this height is to mow frequently enough that each time you are only chopping about one-third of an inch. Doing this will allow your lawn to absorb more of the sunlight and fertilizer you are giving it without any barriers created by the excess dead turf that sits on your lawn when you mow after a longer period of time.
Find a Fertilizing Schedule That Works for You
Fertilizing for everyone will look a bit different, which means you can't always look at what your neighbor is doing for their lawn and expect it to work for you the same. Being in touch with what your turf's unique needs are is really important. However, there are things that every lawn needs to thrive. Some of those lawn fertilization treatments include:
Crabgrass control
Spot weed control
Preventative weed control measures
Slow-release fertilizers
After you have identified how much your lawn requires of which treatments, you will be able to help it start thriving. But it is extremely important that you continue to feed your lawn with an efficient and effective hydration method for fertilizing to make a difference.
Stay Hydrated!
Our lawns need extra hydration in the summer, just like many humans do as well. Think about it like this – it would be pretty difficult to swallow your vitamins if no one lets you have a glass of water with them.
That is exactly what happens when you fertilize your lawn without a hydration plan in place. Whether you are planning to be outdoors for long periods of time, multiple times a day, or have a  professional irrigation system installed in your home, your method should be promoting your fertilizer for the best effects.
Choosing a professional system can ensure that you never waste time, money, or water when you are investing in your lawn's health.
Keep An Eye Out for Compacted Soil
Compacted soil can come from a number of different things, some of which are:
Kids playing on your lawn
Enjoying barbeques and parties hosted on your turf
Cars parked on your grass for long periods of time
General overuse
When your turf is compact, it usually just means it was enjoyed a little too much over a short period of time. When soil is too compact, it doesn't allow for water, air, or nutrients to be absorbed by your grass' roots. This means that whatever you are putting on top of your lawn, even if you are watering, won't be put to good use if your soil is compact.
To keep an eye out for this, try to take note of any excess pooling water on the outskrits of your turf, or even noticing whether or not your turf is "spongey" when you walk on it. Another way to test this is by taking a garden tool and trying to drive it into your turf. If you can't get more than half an inch down, it is likely your turf is compact.
Check Out The Lawn Care Services We Provide in the Indianapolis Area
Our team at Picasso Lawn & Landscaping is prepared to take care of your lawn from start to finish. We have been serving the residents of Indiana for over a decade, which means we know what you want and how you want it done. When it comes to taking care of your lawn, leave it up to the experts who can help curate the lawn you desire through high-quality work.
Picasso Lawn and Landscaping serve the Indianapolis Metro Aera, including Carmel, McCrodsville, Noblesville, and Fishers. Some of the lawn care services we offer include:
Aeration and overseeding
A six-step lawn care program
Weed control
Lawn fertilization
Grub control
Check out all of the services we have to offer right here. Our customers can give us a call at 317-253-5296 or reach us through our online forum, located here.
Don't forget to check out our monthly blog for more yard care tips and like us on Facebook to stay updated on the latest deals!