With COVID-19 still keeping us in a full-fledged pandemic over a year after it entered the United States, you probably are still working on optimizing your indoor and outdoor spaces to make the most of them. After all, if you are stuck at home, you might as well enjoy the space you have – and maybe even share it with your inner pandemic confidants.
When it comes to your backyard, there are so many ideas to make it the best, most usable space possible. After being cooped up all this time, and enduring a winter full of Netflix binges and take-out containers, you might want to create a space that is cooler and more enticing than ever. Luckily for you, the team at Picasso Lawn and Landscape has the experience and the creativity to create the best backyard (or front yard) full of several different kinds of pavers. Follow along for our insight on how to get the best out of your pavers.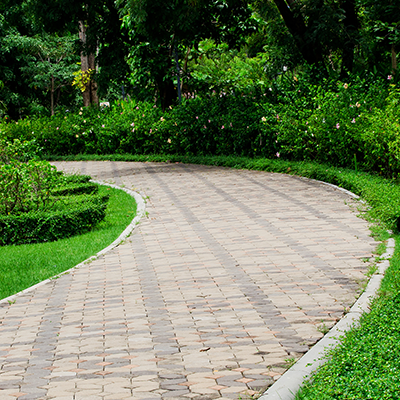 Make The Path To Your House Unique
The pathway to your home doesn't necessarily have to be plain concrete or tar. The possibilities are endless when it comes to considering pavers as one of your driveway options. Some unique options for a driveway paver are:
Incorporating plants and landscaping along the edges or featured as a median
Creating a unique design with multi-colored bricks
Putting grass between the paver blocks
With a brand new paver driveway, you will be able to make a statement that impresses your company, your customers, and anyone who may just be passing by.
Create An Inviting Backyard Space
People all over the world are utilizing their yards more than ever since the pandemic hit. You may have always wanted to use the backyard space that your house came with, but maybe you didn't have the time. With no more commutes and long days at the office, you have plenty of time now to think about the best way to create an inviting spot. Some ways that this is commonly done is by:
Installing a mid-yard paver with a bonfire in the middle
Extending your patio to cover more of your yard and adding a cover
Adding a water feature
Including a retaining wall in your plans
Surrounding your pool with a unique paver rather than plain concrete
But the list doesn't stop there. With each backyard looking a little different than the next, your paver can be unique to your needs and wants.
An Interactive Home Garden
Over the course of 2020, many people have found their "green thumb" when it comes to taking care of plants and outdoor gardens. If you are one of these people, building a creative, fun garden that you want to walk through and be immersed in could be a great option to make your 2021 spring and summer a little more enjoyable! Some options for a cooler garden space include:
A garden you can walk through, including multiple paths, stands for decorative watering cans, and more
A serene bench area with plenty of greenery and a side table for your books or tea
But this space is totally up to what you want and need! The best part about a garden like this is that you can let your imagination run wild. A garden-dominated backyard could make you the talk of the town, and with pavers throughout, you will be able to show it off to anyone who wants to take a look.
Let Picasso Lawn and Landscaping Bring Pavers To You!
Whether you are a homeowner or a business owner, you have the opportunity to use this time to transform your space with pavers. We don't stop at pavers though. The team here at Picasso Lawn and Landscape can do plenty of things from simply planting new plants in your garden to a full outdoor kitchen for you to entertain your guests!
Our other services include pressure washing, snow removal, tree trimming, tree removal, gutter cleaning, landscape design, and installations.
For more on how to utilize your outdoor space and other lawn and landscaping topics, you can keep up with our monthly blog here. Don't forget to follow us on Facebook so you can see what we're up to!